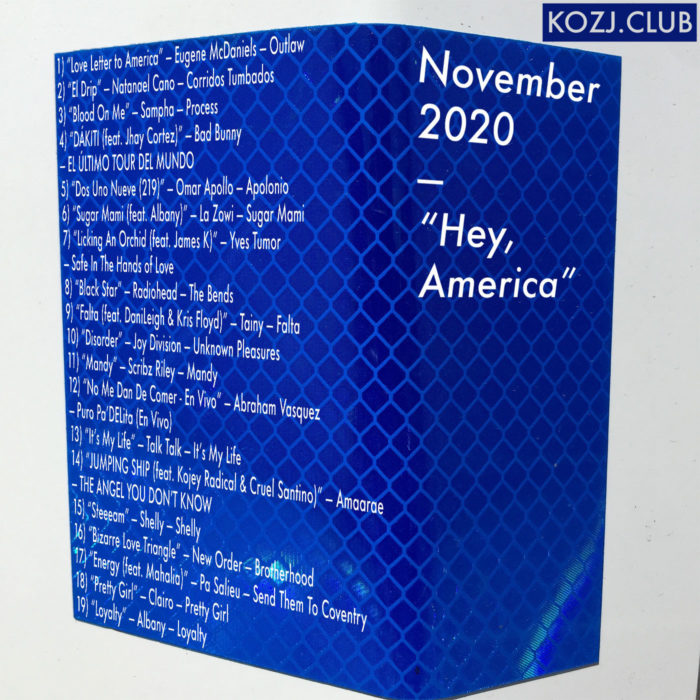 This month's mix is overstuffed, a few different threads woven together haphazardly. You know, like now. The main theme, lest it be missed, is guitars.
Later in the year I'll list my favorite releases of the year, but I should mention now that my favorite and most-listened-two records this year are Eugene McDaniels's Outlaw and Headless Heroes of the Apocalypse. Those albums, released in 1970 and 1971 respectively, work just as well fifty years later. I heard the track that opens this mix for the first time this summer on a show Jeff Parker put together; tellingly, he crops up on NTS all the time.
As always, h/t to Naomi Zeichner's show this month, which was a balm.
Tracklist:
1) "Love Letter to America" — Eugene McDaniels — Outlaw
2) "El Drip" — Natanael Cano — Corridos Tumbados
3) "Blood On Me" — Sampha — Process
4) "DÁKITI (feat. Jhay Cortez)" — Bad Bunny — EL ÚLTIMO TOUR DEL MUNDO
5) "Dos Uno Nueve (219)" — Omar Apollo — Apolonio
6) "Sugar Mami (feat. Albany)" — La Zowi — Sugar Mami
7) "Licking An Orchid (feat. James K)" — Yves Tumor — Safe In The Hands of Love
8) "Black Star" — Radiohead — The Bends
9) "Falta (feat. DaniLeigh & Kris Floyd)" — Tainy — Falta
10) "Disorder" — Joy Division — Unknown Pleasures
11) "Mandy" — Scribz Riley — Mandy
12) "No Me Dan De Comer – En Vivo" — Abraham Vasquez — Puro Pa'DELita (En Vivo)
13) "It's My Life" — Talk Talk — It's My Life
14) "JUMPING SHIP (feat. Kojey Radical & Cruel Santino)" — Amaarae — THE ANGEL YOU DON'T KNOW
15) "Steeeam" — Shelly — Shelly
16) "Bizarre Love Triangle" — New Order — Brotherhood
17) "Energy (feat. Mahalia)" — Pa Salieu — Send Them To Coventry
18) "Pretty Girl" — Clairo — Pretty Girl
19) "Loyalty" — Albany — Loyalty